Meeting Needs from Patients' Perspectives
We endeavor to meet a variety of needs, listening to feedback from clinical practice. We put ourselves in our patients' shoes, striving to develop pharmaceutical forms that are easy to administer, and imprinting them with their names to keep patients from taking the wrong medicine.
"Drug Information Center" Helpline
We opened the "Drug Information Center" as a helpline for inquiries relating to Kyorin products. We respond swiftly and accurately to various inquiries from physicians and pharmacists, from the standpoint of correct usage. We also provide accurate and easy-to-understand responses to inquiries from patients and the general public. In fiscal 2017, we responded to more than 20,000 inquiries.
Providing Information via "Doctor Salon"
At the KYORIN Pharmaceutical, we provide information by sponsoring "Doctor Salon," a radio program for physicians, on Radio NIKKEI (shortwave), producing and distributing brochures, and offering back issues on the web. "Doctor Salon" is a program that provides answers to issues that are highly relevant to clinical practice. It is extremely popular among physicians, especially primary-care doctors.
Publishing Websites for Medical Professionals
As a way of providing information through websites to medical professionals, we created Kyorin Medical Bridge. We endeavor to meet the needs of medical professionals by enhancing information about our products, latest academic news, and information that will be useful in day-to-day clinical practice.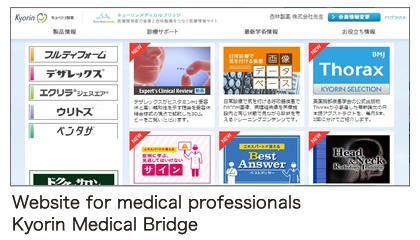 Providing Ailments Information
At the KYORIN Pharmaceutical, we provide assistance to help patients correctly understand their ailments and improve their quality of life by creating informed-consent tools and providing patients with information about their ailments through their healthcare providers.
Support for the Department of Drug Discovery Medicine
To cultivate innovative human resources for Japan's drug discovery in the post-genome era through cooperation with industry and academia, KYORIN Pharmaceutical Co., Ltd. helped establish and provides assistance to the Department of Drug Discovery Medicine at the Kyoto University Graduate School of Medicine.