Environmental Management
KYORIN Pharmaceutical regards environmental issues as a challenge shared by all humanity, and is actively striving to preserve the environment and prevent pollution by establishing and reviewing objectives and targets as needed; promoting the reduction of substances that place a burden on the environment, for example through energy and resource saving, waste reduction, and enhanced management of chemicals; and promoting the effective use of our limited resources.
Environmental Conservation Initiatives
We are actively committed to environmental conservation, focusing on the following major themes: preventing global warming, protecting resources, and living in harmony with the natural environment. We are working to reduce the environmental burden and promote effective use of limited resources by conserving energy and resources, reducing waste and strengthening our management of chemical substances. In 2004, all plants and research laboratories of KYORIN Pharmaceutical Co., Ltd. obtained certification in the ISO 14001 international standard for environmental management systems.
In our efforts to reduce CO2 emissions to combat global warming, we set a target of reducing CO2 emissions by 2% on average annually until fiscal 2019, based on CO2 emissions of fiscal 2015 (19,840 tons) and are promoting such efforts. In fiscal 2017, our CO2 emissions were 16,978 tons.
KYORIN Pharmaceutical Co., Ltd. material flow(fiscal 2017)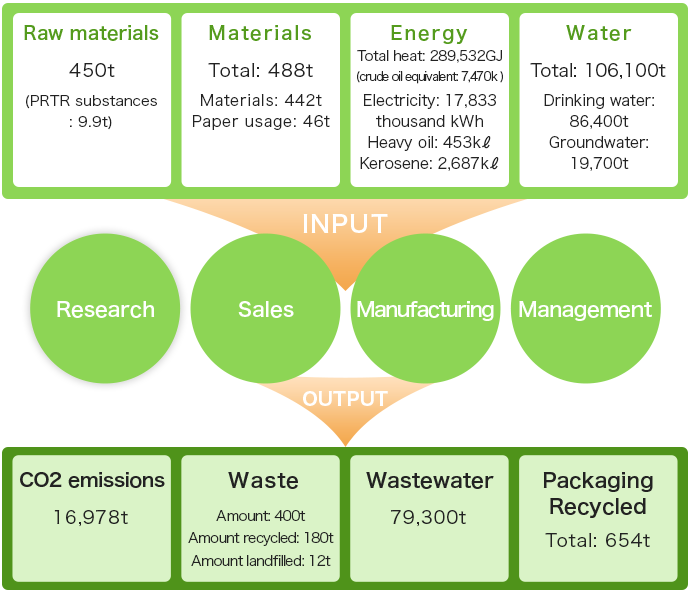 Introducing Hybrid Cars to Reduce CO2 Emissions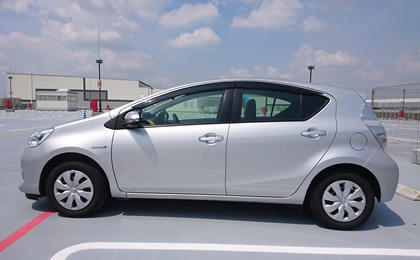 KYORIN Pharmaceutical Co., Ltd. is proactively introducing low-emission cars, hybrid cars, and other environmentally friendly vehicles for its sales force as a way of preventing global warming. As of March 2017, all 936 vehicles used by the sales force met the standard for having low emission (a 75% reduction in emissions from the 2005 standard), and of these, 614 (approximately 66%) are hybrid vehicles, which were introduced in 2004. In addition, these vehicles adhere to the Ministry of the Environment's "Eco-Driving" guidelines, as their operation regards the impact on the environment and traffic safety.
Biodiversity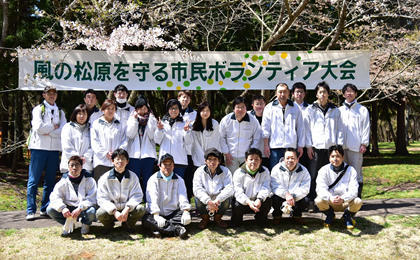 KYORIN Pharmaceutical Co., Ltd.'s Noshiro Plant participates in a citizen's volunteer activity to protect the Kaze-no-Matsubara pine forest near the plant, to provide local residents with a place to relax. In fiscal 2017, a total of 27 plant employees removed dead brush as part of an activity to preserve local biodiversity.

Environmentally Friendly R&D Center
In May 2017, the ReHP technology newly installed at the WATARASE Research Center, which commenced operations in fiscal 2015, was awarded an honorable mention for the Kanto chapter of the Japanese Association of Building Mechanical and Electrical Engineers' carbon neutral prize for construction equipment contributing to the achievement of a low-carbon society. During fiscal 2017, this system reduced electric power consumption by 104,078 kWh and CO2 emissions by roughly 53 tons compared with conventional heat pumps for air conditioning and heating, for approximately 36% in energy savings.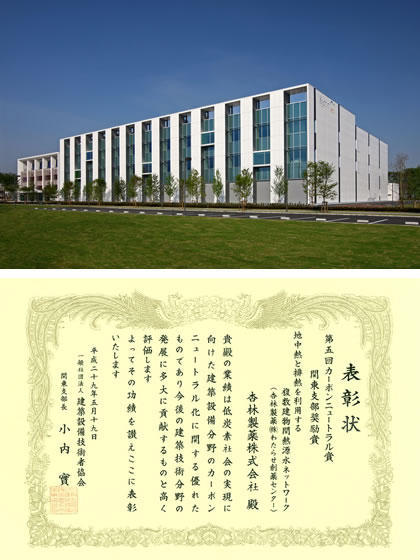 A Renewable Energy Heat Pump (ReHP) is a highly efficient heat pump that uses renewable energy, and the ReHP installed at two adjacent buildings (CS and LAB1) at the WATARASE Research Center uses geothermal heat and unused waste heat from a water chiller as a heat source, and circulates heated water in a single loop, which is used by air conditioning and water heating equipment, to increase energy efficiency.
KYORIN Pharmaceutical environmental targets and progress (fiscal 2017)
Target initiatives
Method for achieving
Fiscal 2017 plan
(incl. numerical targets)
Fiscal 2017 actual
Selfassessment
1. Preventing global warming


(CO2 reduction and energy conservation)

Reduce fuel consumption

(crude oil equivalent)

through new capital investment
7,854kℓ


(92.6%, fiscal 2016 actual)

7,470kℓ


(95.1%)

★★★
Use eco-cars to improve fuel efficiency and reduce exhaust emissions
566/925


(49.6%, fiscal 2016 actual)

614/936


(65.6%)

★★★
Reduce total CO2 emissions
17,828t
16,978t
★★★
2. Reducing waste volume
Reduce total waste
434t


(fiscal 2016 actual)

400t
★★★
Promote recycling
43.3%


(fiscal 2016 actual)

45.0%
★★★
Amount landfilled
12t


(fiscal 2016 actual)

12t
★★★
Zero-landfill challenge
Under 2.8%
3.0%
★★
3. Managing chemical substances
Manage substances covered by the Pollutant Release and Transfer Register (PRTR) Law and revise management method
9.8t


(fiscal 2016 actual)

9.9t
★★
4. Preventing atmospheric pollution
Measure and control amounts of soot and smoke, nitrogen oxide (NOx) and sulfur oxide (SOx) emitted by boilers and generators
Continuous measurement
At or below standards
★★★
5. Preventing water pollution
Process wastewater, including by primary processing plants, and management of pH, biochemical oxygen demand (BOD), and suspended solids (SS) levels
Continuous measurement
At or below standards
★★★
6. Preventing deforestation
Recycle paper, use recycled paper, and promote a paperless office environment
51t


(fiscal 2016 actual)

46t
★
7. Protecting destruction of ozone layer
Eliminate all devices that use Chlorofluorocarbon (CFC) and Hydrofluorocarbon (HFC)
Elimination completed in fiscal 2010
-
★★★
8. Preventing ground subsidence
Reduce groundwater usage and increase drinking water reuse
81.7%


(fiscal 2016 actual)

81.4%
★★
9. Noise reduction
Periodic measurement
Continuous measurement
At or below standards
★★★
10. Protecting biodiversity
Communicate with local communities (activities to contribute to local communities)
Plan for each business facility
Achieved targets at all business facilities
★★★
11. Publishing environmental information
Create and publish environmental report
Publish on website in August
Published on website in August
★★★
* Self-assessment scale:★★★achieved; ★★largely achieved; ★more work required
CO2 Emissions from Factories and Research Laboratories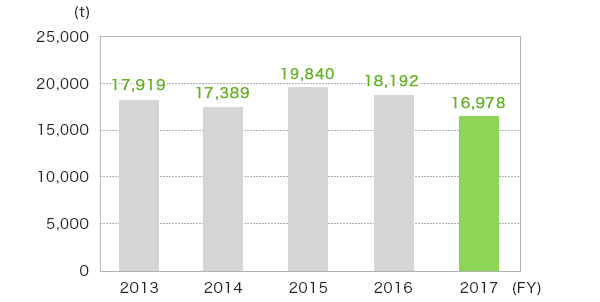 Reduction of Waste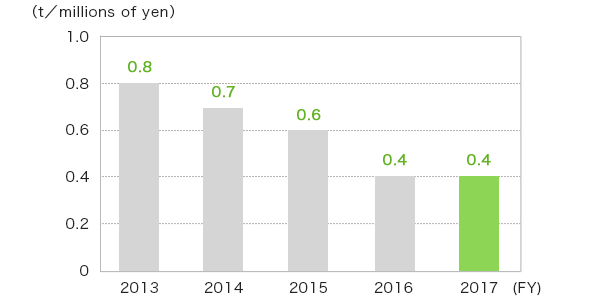 Volume of Water Used