We place priority on the fields of respiratory, otolaryngology and urology, and, in our activities, we aim to build strong relationships of trust with specialists and accurately grasp their needs.

KYORIN Pharmaceutical's sales division is striving to establish its presence among franchise customers in the specific fields of respiratory, otolaryngology and urology. We have approximately 750 medical representatives (MRs), who work to build strong, trust-based relationships with the physicians they visit regularly, particularly the specialists in these fields, so that from an organizational standpoint, we are able to precisely grasp the needs of medical professionals and quickly accommodate them. KYORIN Pharmaceutical has instituted a teambased sales structure in which a number of MRs are made responsible for a certain area. In order to develop the areas for all teams, we swiftly respond to diverse medical needs as an organization. we reorganized our team areas based on the secondary medical districts (branch, sales offi ce, and team), with headquarters and branches working together to implement strategies in line with area management, a specified agent policy, and redeployment of sales resources. we make various proposals after sufficiently understanding physicians' approaches to drug treatment, and work to contribute to the development of medicine in general and the treatment of patients and people's health in a broader sense.
- MR structure-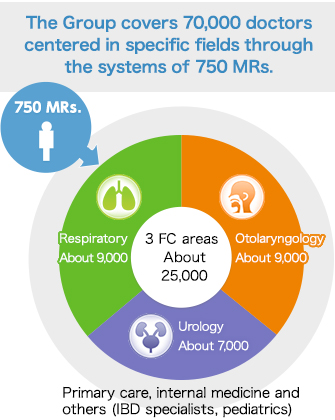 - Area Management-

*MRs(Medical Representatives)are those in charge of drug information. Our MRs visit medical institutions and provide medical professionals with drug information with emphasis on our own ethical drugs. Their main duties are to promote proper drug use, to gather information about the efficacy and safety of drugs from the medical frontline, and to provide medical professionals with accurate feedback on the information obtained from the medical frontline.