Backed by our ability to create innovative new ideas, KYORIN Pharmaceutical aims to create first-in-class new drugs.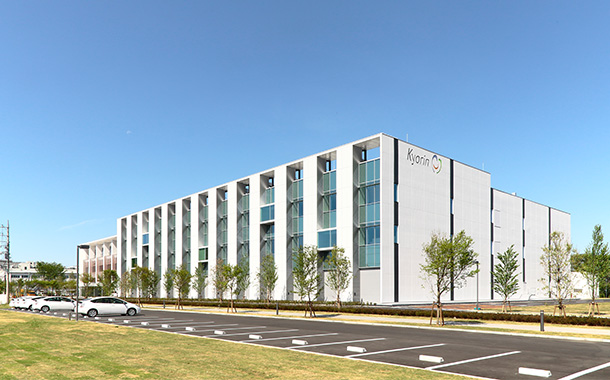 WATARASE Research Center
The Kyorin's mission is to meet the numerous unmet medical needs that still exist, continuously discovering and delivering innovative new drugs that contribute to the health of people around the world.
In the drug discovery process, we are leveraging our foundation research in areas such as inflammation, immunity, and infectious diseases as core technologies as the basis for identifying novel drug discovery targets, aiming to create first-in-class new drugs in specific fields. We actively utilize existing drug discovery platforms (kinase and receptors) based on low molecular weight and new technologies (peptides, gene therapy, and so forth). With regard to our new technologies, we are promoting not just research within the Company but also collaboration with academia such as universities and research institutes and through other ventures. We will select highly original research themes and pursue R&D activities.
In the development process, we are guided by a consistent focus on the needs of the patients who will use the drugs, and this is based on understanding the importance of creating products that meticulously meet medical needs. In addition, we follow a "developer-producer" approach in which we formulate development policies with a strong awareness of our vision for a product after launch. In line with this, we give ample consideration to marketability, profitability and feasibility, and are continuing to create drugs by pursuing effectiveness, safety and convenience.
Backed by our ability to create innovative new ideas, KYORIN Pharmaceutical aims to become a manufacturer of original new drugs that can contribute to the health of the world's people.
- Enhancing basic research and
theme selection -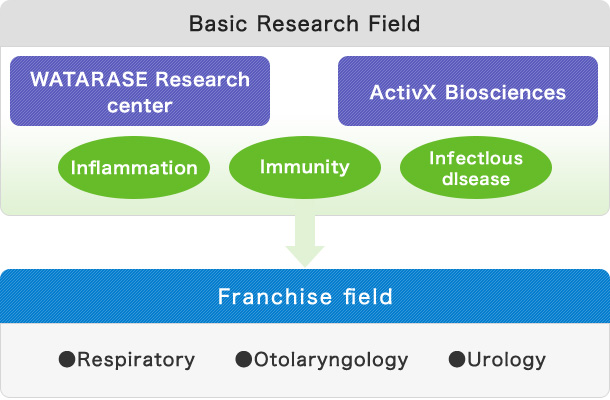 - The System for Generation of
innovative new drugs -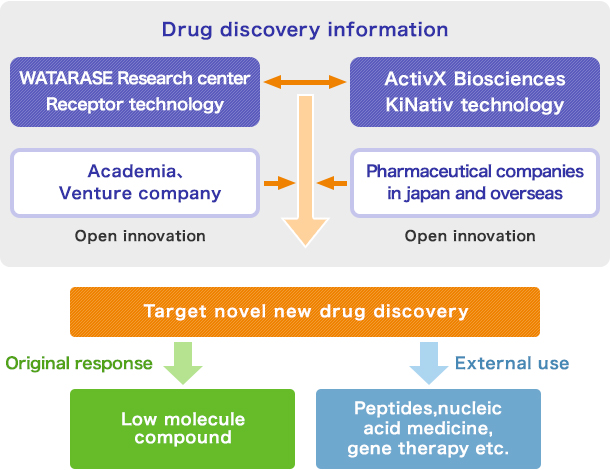 Products Under Development
KYORIN Pharmaceutical, a core compamy in the Kyorin Group, has set a goal of establishing a greater presence in the franchise customer (FC) field (respiratory, otolaryngology and urology), and is working to reinforce its R&D pipeline.
Alliances Strategy
KYORIN Pharmaceutical is working to reinforce and enhance its product pipeline. This is an important priority for us as a drug maker, and our approach includes both in-house drug discovery and active collaboration with external partners. We intend to continue striving to build an even more attractive product pipeline going forward.
Actively Promoting Alliances with External Partners in Japan and Overseas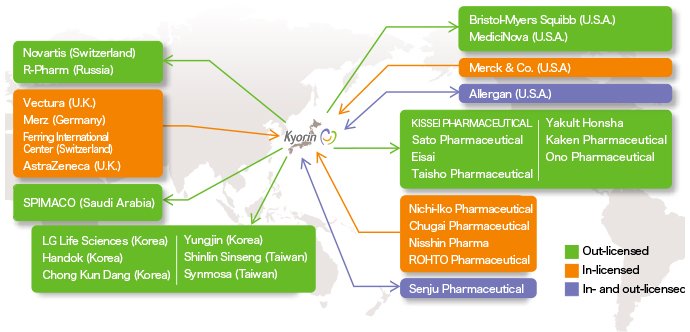 System for Operating and Managing Public Research Funds
Pursuant to the "Guidelines for Managing and Auditing Public Research Funds at Research Institutions (Implementation Criteria)" enacted by the Ministry of Education, Culture, Sports, Science and Technology, Kyorin has established regulations concerning the operation and management of public research funds, and operates and manages publics research funds properly under the following system of responsibility.